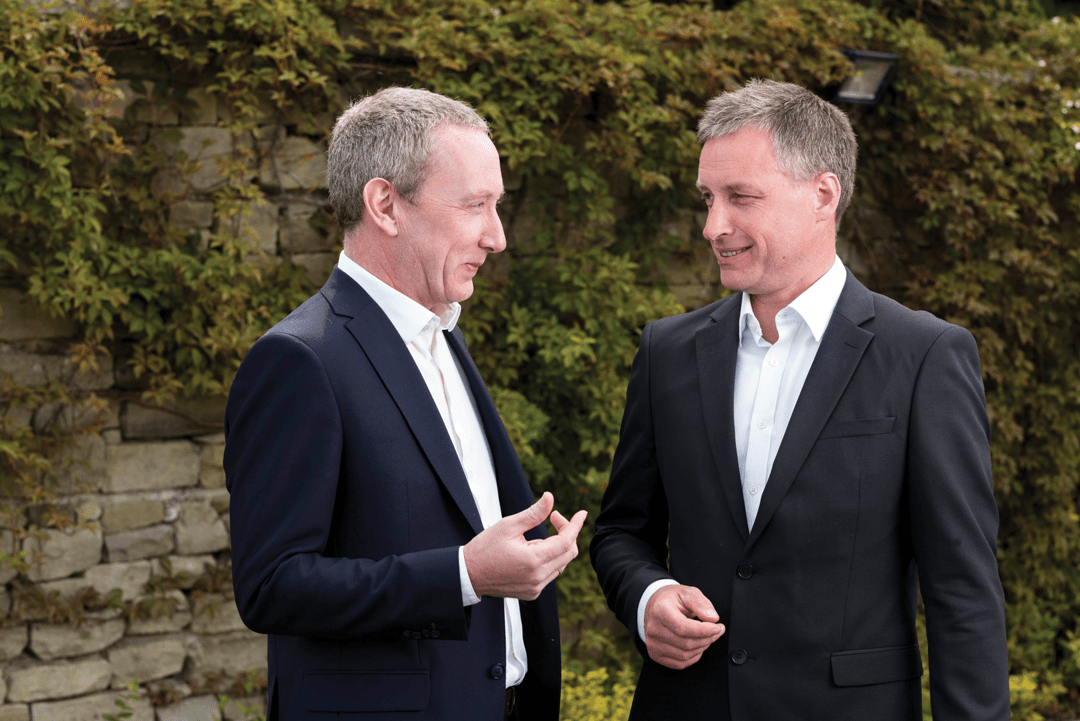 Entrepreneurship: The Sky's the Limit
Currently on a recruitment drive to double its workforce, OpenSky is a gov-tech specialist which provides automated solutions to public sector bodies and the financial services sector. Michael Cronin established the business in 2004 with William Flanagan.
Q: Have you always had a business head on your shoulders?
MC: I'd like to think I did. Looking back to when William and I started the company in 2004, it was a world where a significant number of people had mobile phones but before applications were being rolled out across such devices. We looked at what was happening and how technology was enabling greater capabilities – within the context of how it might be leveraged to help government organisations deliver services. 
It became evident that there was potential for technology to create a better way of serving citizens and improving their experience. One of our first projects was with Dublin City Council whereby we enabled it to aggregate information about traffic levels and parking space availability for the public via mobile phones. This was the kind of innovation that really kick-started the business.
Q: What is different about what you do in the IT space?
MC: It can be difficult to find a company that understands the more complex areas of automation and the individual challenges facing organisations – many providers tend to supply ready, off-the-shelf products. However, at OpenSky, we decided to take more of an engineering approach in that we build solutions that solve specific, often intricate, problems. That was what we set out to do in the beginning and we've always worked that way, so it's built into the DNA of the business.
Listening to and focusing on what the customer wants. No matter what the industry, if any business fails to do this, it won't be successful.
Q: What would you say has been the secret to the success and growth of OpenSky?
MC: Listening to and focusing on what the customer wants. No matter what the industry, if any business fails to do this, it won't be successful. Another key element in terms of our own achievements and growth is how we approach new technologies and endeavour to cut through the hype. We operate in a sector that is constantly changing and new solutions pop up all the time, but the reality is that there are products and services that never make it anywhere because they don't actually solve the challenges that customers are facing.
Of course, we keep track of emerging technologies, but we always ensure that we trial and test them to determine the value they might deliver for the organisations we work with. Just because a solution is the latest on the market doesn't mean it will be effective. As well as putting new solutions to the test before implementing them for customers, we invest a lot of time and money in research and development projects. In fact, we aim to spend up to €1m annually in this area to ensure we keep identifying, designing and delivering cutting-edge solutions for public sector bodies, government agencies and financial services companies.

Q: You have made some key appointments recently, why are these important?
MC: While William and I founded OpenSky, it's not just our story. The journey of the company is down to the entire team (in particular the management team) – they are at the centre of every project, business decision and customer win. We are lucky in that we have an extremely talented group of people who can collaborate together and are passionate about enabling digital transformation.
Furthermore, it's important to extend this wealth of expertise by adding to the team. In fact, last year we announced that we will be doubling the team by 2021 (taking our headcount to 160) and we've made some recent senior appointments including Tudor Pitulac, Head of Research Projects and Darren Clarke, Head of Customer Success. Bringing in good people with great experience is vital to ensure that our company strategy keeps evolving and our business performance stays on an upwards path.

Q: What are your mantras in business and how have they kept you going and your business growing?
MC: It might sound obvious, but I would say "Commitment is key" is our mantra. I can recall receiving feedback from a number of sales pitches that we subsequently won, outlining to us that one of the key deciding factors in us winning the business was that we showed real commitment to both landing and delivering the project. We demonstrated that not only had we conducted our research and understood the requirements, we were also enthusiastic about working with these organisations. As well as helping us to stand out from the competition, this gave the buyers the confidence that we would deliver and be a great partner to work with.

Q: Where would you like to be with OpenSky in five years' time?
MC: The aim is to further grow the company in terms of the team and our offering. As I mentioned, we understand that we have to keep learning, researching and evolving so that we can provide the best, future-proofed technologies to support customers. We have to stay ahead by understanding the next challenge and the next innovation, both in five months' and in five years' time.
Importance of R&D
In 2019, OpenSky created a dedicated research and development division to ensure that it continues to develop high-quality solutions and services. It is also building a unit which will be dedicated to the implementation of robotic process automation to deliver efficiency within the financial services sector. Blockchain is another area OpenSky will be focusing on in 2020, specifically in relation to how government agencies can leverage it to better serve the citizen, enable greater transparency and secure interactions with the public. "Of course, we will continue to do what we've always done, but we haven't gotten to where we are now by staying static for the past 15 years," says Michael Cronin, Managing Director of OpenSky.