Mentors: Antoinette Dale Henderson
With over 25 years' experience in leadership communications, Antoinette Dale Henderson has recently launched a book primarily aimed at unlocking women's full potential and helping them to achieve success at a senior level, writes Grainne Rothery.
Sometimes it's hard to be a woman – particularly if you aspire to having a seat at the top table in your professional life. While things have been improving in recent years, the fact remains that if you happen to be female in Ireland – and most other countries – you are less likely to be in a senior leadership role than your male counterparts.
There's plenty of evidence to support this. According to the latest Balance for Better Business report (November 2019), for example, women accounted for 25.3% of board members of the ISEQ 20 companies and 19% of directors of other listed companies. The same report found that just 8.5% of executive directors in listed companies in Ireland were women. Another report – Women in Management: The Leadership Pipeline – reveals that 18% of CEOs in large Irish companies in 2018 were female. Meanwhile, in politics women make up 22.5% of the most recently elected TDs to Dáil Éireann (36 out of 160 deputies).
"Women are currently at a disadvantage when it comes to fulfilling their potential in the workplace," says UK-based executive leadership coach, author and Tedx speaker, Antoinette Dale Henderson. "Women have to move through concrete, tangible hurdles – which is not the case for men."
The statistics Dale Henderson reels off are as sobering as the Irish evidence: 14 companies in the FTSE 350 have no woman, or just one woman on their board; 83% of women have witnessed other women struggling to make their views heard (Chartered Management Institute [CMI] study); 61% have seen gender bias in pay rewards (also CMI); 67% of women are more likely than men to feel uncomfortable when expressing themselves in a work environment (RADA).
"If you combine all the evidence with the conditioning girls and women go through that prevents them from putting themselves out there and feeling like they have the right to ask for and get what they want, women are still unfortunately on the back foot," she says.
I wanted to develop a programme for managers and leaders from scratch that was fresh, practical and relevant and was different from a lot of the methodologies and theoretical models that were out there already.
Inner reserves
Helping women to tap into their inner reserves and ultimately fulfil their potential is the focus of Dale Henderson's recently published book, Power Up, which focuses on six power sources – intuition, knowledge, resilience, magnetism, relationships and assertiveness – and how these can be developed (see panel).
Dale Henderson left a senior career in PR to start her own training business in 2007. Focused initially on traditional communications skills, she moved into leadership development and ended up creating her own programme, Gravitas, which launched in 2011 in the UK.
"I wanted to develop a programme for managers and leaders from scratch that was fresh, practical and relevant and was different from a lot of the methodologies and theoretical models that were out there already."
Business owners, managers and leaders generally have similar challenges, irrespective of sector, she says. "It's fundamentally about how you inspire and motivate people to do their best work. As part of that, you need to be able to communicate in a motivating and confident way that inspires trust, enables you to share your vision, and to deliver it with authority and conviction."
One of the objectives of that first programme was to shed light on what exactly gravitas is. "When I was 27, I was told I would need to develop my gravitas if I wanted to progress and become an account director," she says. "But I was never told what it was or how to go about getting it. When I was coaching, I met many people in the same boat. I really wanted to develop something that breaks 'gravitas' down and makes it tangible."
Incidentally, Dale Henderson sees gravitas as the ability to be taken seriously, command respect and have your voice heard, while staying true to who you really are. The good news, she says, is that it is much more likely to be learnt than to be an innate quality. "Even the most admired leaders have grown into their style with help, practice and dedication," she says.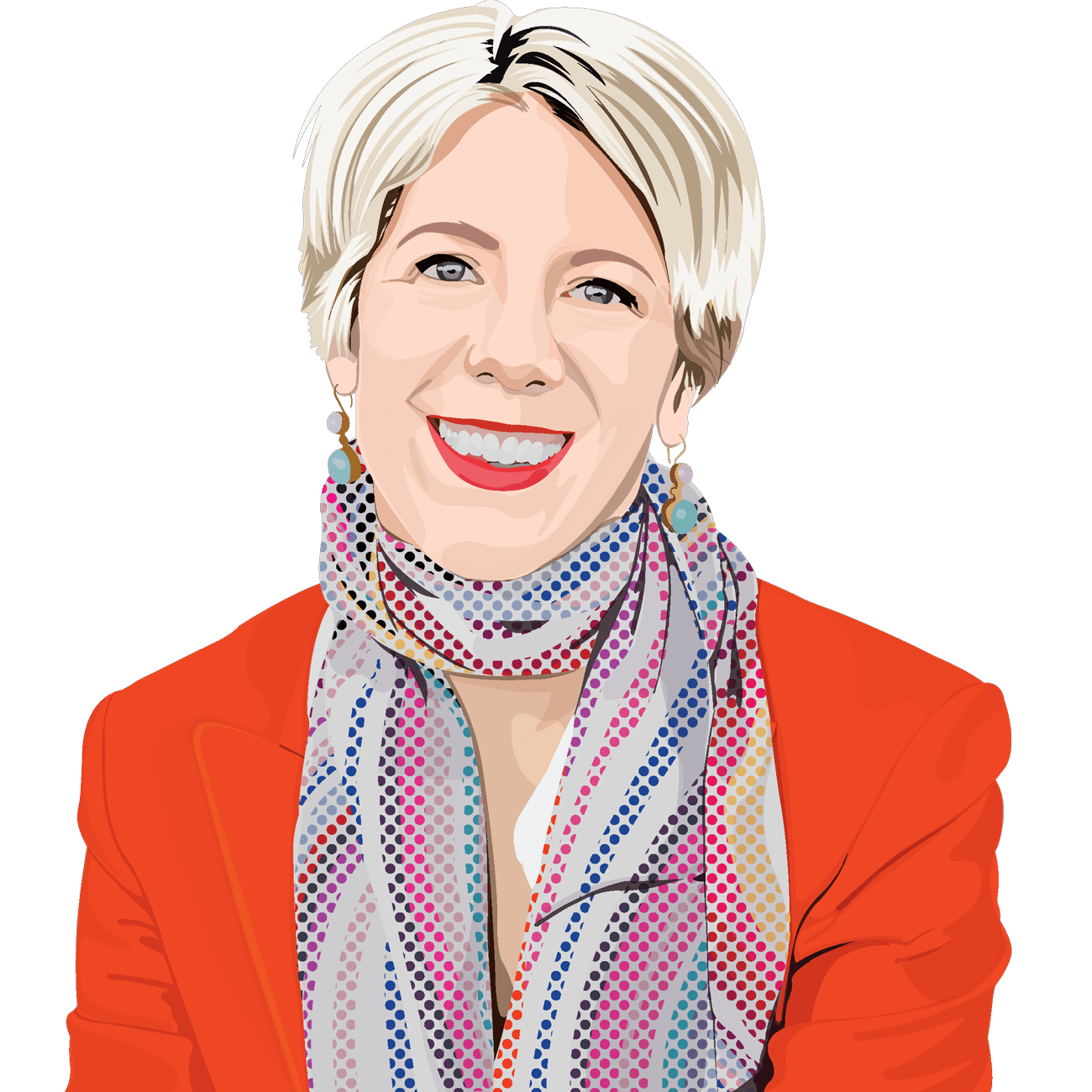 If you combine all the evidence with the conditioning girls and women go through that prevents them from putting themselves out there and feeling like they have the right to ask for and get what they want, women are still unfortunately on the back foot.
Wheels in motion
According to Dale Henderson, the internal qualities of gravitas include self-awareness, expertise and authenticity, while presence, connection and projection are among the external qualities. These qualities are encapsulated in the programme's 'Gravitas Wheel' tool for assessing and enhancing your own gravitas as a leader.
"If you are using the wheel you should start by objectively assessing yourself in each area and examining the qualities that are the strongest for you and the ones that might be holding you back. Self-reflection is important for this, as is getting feedback from others.
"Once you define your strengths and the areas that need further development, you can make headway to defining your unique 'G-Factor' and increasing your own gravitas."
Two years ago, as the #MeToo movement was kicking off, gender pay gap reporting was coming on stream and the focus on diversity and inclusion was increasing, Dale Henderson decided to write a book specifically aimed at women.
"A lot of the women I was working with were telling me they wished they'd had access to the Gravitas tools and techniques when they were starting out. The idea behind Power Up was to reach as many people as possible."
Power Up uses the same approach as the Gravitas model, she says, but is aimed particularly – though not exclusively – at women at all stages of their careers. "Tapping into your power can be a challenge for everyone, but there are specific factors that make it more difficult for women to be assertive as they navigate through life," she says.
Common power blockers for women, she says, include not being heard, imposter syndrome, needing to be liked, expectations around sexuality, hiding their light and the need to be perfect.
Force for good
Dale Henderson sees power in its most positive way, viewing it as a force for good that enables the individual at a personal level to propel themselves forward. From her own research, she says that while power is expressed in many different ways, powerful women have all spent time exploring who they are and their unique purpose and direction in life.
Through the book – and her ongoing work – Dale Henderson hopes to provide women with the tools and techniques they need to better understand their self worth, unlock their inner power reserves and have the confidence and ability to use them when they need to.
She firmly believes that women's empowerment must not come at the expense of men. "This is about powering up together and learning from one another, supporting and having empathy for each other."
She has been asked to write a book aimed specifically at men. "I wouldn't do that because I'm not a man," she says. "But I do empathise with the challenges they're currently facing and I think a lot of men are in a bit of a crisis now – behaviours that were masculine and alpha and celebrated a couple of years ago could now be grounds for being sent to HR!"
Power Up – the six key power sources

Intuition

---
This is an important but often misunderstood trait, according to Antoinette Dale Henderson. "People think it's about asking the universe or something coming to them in a dream, but it's not – it's about lived experience stored in our subconscious." She notes that 'gut instinct', which is seen as a masculine quality, is the same as female intuition. "If we have a decision coming up and don't know how to act, we can sometimes go through analysis paralysis – doing lots of research and not trusting ourselves. Nine times out of ten the intuitive response to a decision – listening to the voice that tells us how we should act – is the one that's going to be best for us."
Knowledge

---
In a work context, knowledge is about continually developing ourselves and honing our expertise so we can differentiate ourselves from our peers, Dale Henderson says. "But it's also about being able to articulate it in a way that is compelling to others. So, it's as much about how we choose to share it as how we develop it for ourselves."
Resilience

---
Resilience is vitally important for allowing us to get up again and again even when things happen outside of our control. Dale Henderson describes it as a secret weapon in the fight for power. Her four steps for developing resilience are: taking control, choosing the right mindset, building it into your daily life, and staying strong through adversity.
Magnetism

---
One of three external power sources, magnetism is the ability to attract people to you and command attention in order to get things done. "It's not about being liked or popular, but compelling people to want to do things for you. If we don't get noticed, we can easily be overlooked." While quieter, more reflective people can struggle to get noticed, Dale Henderson says that being curious about others and listening to them can boost an individual's visibility while allowing them to stay true to themselves.
Relationships

---
While woman tend to be good at forging strong relationships, Dale Henderson concedes that networking can be low down their list of priorities.
"It is really important to prioritise relationship building, so think about what you can do with the time you have. Social media can be fantastic for building relationships if you use it effectively. But the blend of offline and online is important too. If we spend all our time building relationships online, we start to lose those natural skills and rapport building, reading people and making conversation, which are hard things to do."
Assertiveness

---
This can be a problem area for women. "It's unfortunate that when a woman communicates powerfully she can be perceived as being bossy or even hysterical," Dale Henderson says. "If a man were to say exactly the same words, he could be perceived as being strong or assertive." Dale Henderson describes assertive behaviour as honest, direct, clear, expressive, self-enhancing, persistent and respectful. "You can use your emotions but you need to channel them rather than letting them run away with you. So, it's not about shouting loudly or being pushy, but knowing where the line is and calling people out when they cross it."